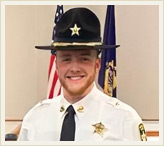 Sheriff Donald Keeler
Addison County Sheriff's Department
35 Court Street
Middlebury, VT 05753
Phone:
(802) 388-2981
Fax:
(802) 388-2249
Website:
vtacsd.com
Email:
Sheriff Donald Keeler

Sheriff Donald Keeler
Sheriff Don Keeler Jr has been with the Addison County Sheriff Dept since 1972. He has held the rank of Deputy,Sargent,1st Sargent and was elected High Baliff in 2000. Sheriff Keeler took the reigns as Sheriff after the passing of Sheriff James B. Coons on April 16, 2011 and appointed by Gov. Shumlin in July 2011 becoming the Fortieth Addison County Sheriff on record. Sheriff Keeler has vast experience in Firearms and has been very active in the Mert program for many years. more to follow....
Return to Addison County Information Page.