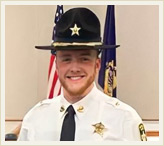 Sheriff Peter Newton
Addison County Sheriff's Department
35 Court Street
Middlebury, VT 05753
Phone:
(802) 388-2981
Fax:
(802) 388-2249
Website:
vtacsd.com
Email:
Sheriff Peter Newton

Sheriff Peter Newton
Sheriff Peter D. Newton grew up in Salisbury, Vermont and has resided in Middlebury for the last 28 years, a life long resident of Addison County.
Sheriff Newton was sworn in as the 41st Sheriff of Addison County on February 1, 2019, and has over 28 years in the public safety field.
A Vermont Full time certified police officer, and Training Assistant at the Vermont Police Academy.
Peter started as a Patrol Officer for the Middlebury Police Department in February 2003 and worked there until September 2013. Peter started working for the Addison County Sheriff's Department in April 2012, and worked his way from Deputy to Detective Sergeant to Lieutenant and finally Sheriff.
Prior to being in law enforcement Peter had 13 years in the Vermont Emergency Medical Field with the Middlebury Volunteer Ambulance Association . Peter was Advanced life support trained, a Crew Chief, Heavy Rescue Chief, Operations manager, Board member on the MVAA board of directors. Peter was also a transport medic for the Fletcher Allen Coordinated Transport team (FACT).
Addison County Little League & Babe Ruth baseball coach for 8 years.
The Adison County Sheriff's Department is a 20 Person Department with 15 Sworn Deputies and 5 Civilian personnel. The sheriff's Department is Located at 35 Court Street in Middlebury, and we are active in all 23 towns in Addison County.
The Sheriff's Department does,
Highway Safety Enforcement.
Commercial Motor Vehicle Enforcement.
Criminal Investigations with the Addison County Unit for Special Investigations and the State's Attorney's Office.
Court Security.
Prisoner Transport.
Mental Health and DCF Juvenile Transports.
Special Police Details.
Civil Process Service.
National Forest Patrols.
Illegal Burning and Solid Waste Investigations.
Return to Addison County Information Page.