Your printer friendly content from www.vtsheriffs.com on October 02, 2023.
Vermont Sheriff's Departments: Addison County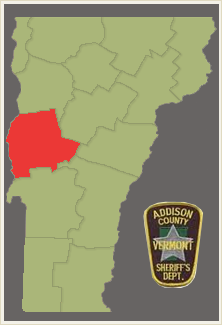 Addison County Sheriff's Department
35 Court Street
Middlebury, VT 05753


Phone: (802) 388-2981
Fax: (802) 388-2249

Website: www.addisoncountysheriffvt.com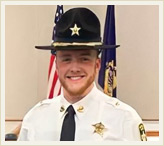 Sheriff:
---
Sheriff Michael Elmore
My name is Michael Elmore and I am the 43rd Sheriff of Addison County. I was born in Middlebury and have spent the majority of my life here in Addison County. I graduated from MUHS in 2012 and attended Bob Jones University in Greenville, SC where I earned a degree in Criminal Justice, graduating in 2016. While in college, I spent about 4 years working as a security officer for the University, becoming a Master Patrolman (mid level supervisor). After graduation, I worked as a security guard at the Shelburne museum as well as a Federal security guard through a contractor for various Federal buildings in the northern part of Vermont. In 2017, I married my college sweetheart, Rose, and we began living together in Addison. Shortly before we got married, I started my career in law enforcement after being hired by the Addison County Sheriff's Department. I attended the Level 2 (or "part time") certification course in June of 2017, and continued my training over the next few months. In February of 2018, I attended the level 3 (or "full-time") 16-week certification course at the Police Academy in Pittsford. After graduating from there in May of 2018, I hit the ground running. I was promoted to Corporal in February of 2019 which gave me more responsibilities, including supervising other deputies. In December of 2019, I received a promotion to Sergeant. My tasks and obligations have only grown since then, and I have been able to learn a lot as a police officer and leader within the department.
---
History
The Addison County Sheriff Department was established in the late 1700's and has been at it's current location since being built in 1845 to include a jail. The jail had been in continuous operation from 1845 until 1971. The jail was re-opened in the mid 1980's and closed after the expiration of a federal contract in May of 2011. Since then, the space has been renovated and is home to additional office space and a small gym for Deputies to use to work out. The Addison County Sheriff Department currently has 14 full and part-time Deputies serving the Addison County Community.
---
Our Department's Historical Listing of Sheriffs'
1785 to Present..
Noah Chittenden - 1785-1786 (Jericho)
Gamaliel Painter - 1786-1787 (Middlebury)
Samual Strong - 1787-1789 (Addison)
John Chipman - 1789-1801 (Middlebury)
William Slade - 1801-1811 (Cornwall)
Johnathan Hoyt Jr. - 1811-1812 (New Haven)
John Willard - 1812-1813 (Middlebury)
Samual Mattocks - 1813-1815 (Middlebury)
Johnathan Hoyt Jr. - 1815-1819 (New Haven)
Abel Tomlinson - 1819-1824 (Vergennes)
Stephen Haight - 1824-1828 (Monkton)
Seymour Selleck - 1828-1831 (Middlebury)
Marshall S. Doty - 1831-1833 (Addison)
Azariah Rood - 1833-1835 (Middlebury)
William B. Martin - 1835-1836 (Middlebury)
Azariah Rood - 1836-1837 (Middlebury)
Ethan Smith - 1837-1839 (Monkton)
William B. Martin - 1839-1840 (Middlebury)
Adnah Smith - 1840-1842 (Middlebury)
Gajus A. Collamer - 1842-1844 (Bristol)
David S. Church - 1844-1859 (Middlebury)
William Joslin - 1859 (Vergennes)
Gajus A. Collamer - 1859-1867 (Bristol)
Isaac M. Tripp - 1867-1878 (New Haven)
Nobel F. Dunshee - 1878-1884 (Middlebury)
Howard Clark II - 1884-1892 (Lincoln)
Kent W. Merritt - 1892-1898 (Shoreham)
Thad M. Chapman - 1898-1904 (Middlebury)
William H. Cobb - 1904 (Middlebury)
Olin A. Smith - 1904-1919 (Addison)
George A. Farr - 1919-1927 (Bristol)
Nobel J. Sanford - 1927-1933 (Middlebury)
Ralph C. Sweet - 1933-1955 (Bristol)
Morton A. Coons - 1955-1961 (Middlebury)
Allen J. Chandler - 1961-1967 (Middlebury)
Alfred B. Chio - 1967-1973 (Middlebury)
Allen J. Chandler - 1973-1975 (Middlebury)
Paul Munson - 1975-1983 (Weybridge)
James B. Coons - 1983-2012 (Middlebury)
Donald M. Keeler, Jr. - 2012-2019
Peter Newton - 2019 - 2003
Michael Elmore - 2003 - Present
Towns We Serve
Addison
Bridport
Bristol
Cornwall
Ferrisburg
Goshen
Granville
Hancock
Leicester
Lincoln
Middlebury
Monkton
New Haven
Orwell
Panton
Ripton
Salisbury
Shoreham
Starksboro
Vergennes
Waltham
Weybridge
Whiting