Your printer friendly content from www.vtsheriffs.com on October 02, 2023.
Vermont Sheriff's Departments: Bennington County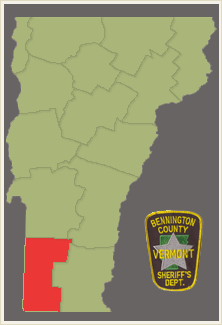 Bennington County Sheriff's Department
811 US Rte 7 South
Mailing Address:
P.O. Box 4207
Bennington, VT 05201


Phone: (802) 442-4900
Fax: (802) 442-7282

Website: www.benningtonsheriff.org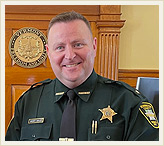 Sheriff:
---
Sheriff James A. Gulley, Jr., MPA
James A. Gulley, Jr., MPA, is a native Vermonter who grew up in Bennington, and is a graduate of Mount Anthony Union High School, Castleton State College, and Norwich University. In 2003, Chief Richard Gauthier hired James as a patrolman for the Town of Bennington. For approximately fourteen years, James served the Town of Bennington with admiration in his heart. Being a public servant is a dream come true for James. In 2007, James was appointed to serve as the Constable for the Town of Bennington, where the Selectboard required certain civil ordinances be enforced. In 2010, James was elected to serve two terms as the High Bailiff for Bennington County. James served this position well and functioned as a safeguard for the Sheriff of Bennington County, completing state of affairs that the Sheriff was unable to accomplish.
Throughout his twenty years of public service, James has taken his position as a law enforcement officer seriously. In addition, as a Detective for the Vermont State Police – Drug Task Force and for Manchester Police Department, James has listened to, and learned from many citizens in Bennington County, and understands what people want. In doing so, James has always been willing to establish connections with people to make a difference in their lives.
James is also active in community service events. James serves on the Board of Directors for the Bennington County Coalition for the Homeless. As a law enforcement officer, James feels it is his moral responsibility to help the most vulnerable members of our society. James is also involved in Special Olympics where he has donated money and partaken in the yearly law enforcement torch run. Knowing how important Special Olympics were to James' late Uncle, Jeffrey Palmer, it is still an honor to promote respect, acceptance, inclusion, and human dignity for all people. Furthermore, James is a member of the Free and Accepted Masons – Mount Anthony Lodge #13, where the emphasis is placed on the individual man by strengthening character, improving moral and spiritual outlook, and broadening mental horizons.
James is also a life member of the Veterans of Foreign Wars Auxiliary. Being an auxiliary member of the Veterans of Foreign Wars allows James the opportunity to support Veterans, Service Members, and their families.
---
History
The Bennington County Sheriff's Department has a rich history in Vermont. Originally founded in 1781 by Sheriff Jonas Galusha, the department had no means of funding until 1986 when Gary J. Forrest was appointed Sheriff by Governor Kunin. Gary J. Forrest served as Sheriff from 1986-2009 building the modern day Bennington Sheriff's Department. The Sheriff has worked hard to build a department that has deep reaches in the County. In September of 2009, Chad D. Schmidt was sworn in as Sheriff, replacing the retiring Sheriff Gary Forrest. In February 2024, James A. Gulley, Jr., MPA was sworn in as Sheriff.
---
Our Department's Historical Listing of Sheriffs'
Jonas Galusha - 1781-1787 (Shaftsbury)
David Robinson - 1787-1798 (Bennington)
William Cooley - 1798-1800 (Rupert)
David Robinson - 1800-1811 (Bennington)
Samuel Fay - 1811-1823 (Bennington)
Josiah Burton - 1823-1826 (Manchester)
Samuel Canfield - 1826-1836 (Arlington)
John Norton - 1836-1837 (Bennington)
Gurdin H. Smith - 1837-1839 (Manchester)
Raymond Fish - 1839-1840 (Bennington)
Gurdin H. Smith - 1840-1842 (Manchester)
John V.D.S. McEowen - 1842-1845 (Bennington)
Jasper Viall - 1845-1849 (Dorset)
James S. Merrill - 1849-1853 (Bennington)
Jasper Viall - 1853-1859 (Dorset)
John Robinson - 1882-1884 (Bennington)
James McCall - 1884-1888 (Rupert)
Andrew J. Pike - 1888-1890 (Readsboro)
John Robinson - 1890-1892 (Bennington)
Henry S. Wilson - 1892-1906 (Arlington)
Fredrick Godfrey - 1906-1919 (Bennington)
Perry B. Gardner - 1919-1922 (Bennington)
Patrick H. Thompson - 1922-1924 (Arlington)
Wilton A. Vaill - 1924-1925 (Bennington)
Perry B. Gardner - 1925-1934 (Bennington)
William E. Bissell - 1934-1935 (Bennington)
Clyde Peck - 1935-1947 (Bennington)
John Maloney - 1947-1986 (Bennington)
Gary J. Forrest - 1986-2009 (Bennington)
Chad D. Schmidt - 2009-2023 (Bennington)
James Gulley - 2023-Present (Bennington)
Towns We Serve
Arlington
Bennington
Dorset
Glastenbury
Landgrove
Manchester
Peru
Pownal
Readsboro
Rupert
Sandgate
Searsburg
Shaftsbury
Stamford
Sunderland
Winhall
Woodford