Your printer friendly content from www.vtsheriffs.com on December 03, 2022.
Vermont Sheriff's Departments: Bennington County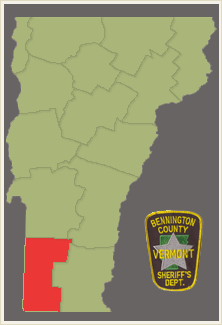 Bennington County Sheriff's Department
811 US Rte 7 South
Mailing Address:
P.O. Box 4207
Bennington, VT 05201


Phone: (802) 442-4900
Fax: (802) 442-7282

Website: www.benningtonsheriff.org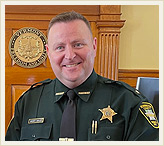 Sheriff:
---
Sheriff Chad Schmidt
In 1994 Chad joined the Bennington County Sheriff's office part-time. In 1997 Chad graduated from Southern Vermont College with a Bachelors degree in Criminal Justice. In 1998 Chad was hired full time with the Sheriff's Office and attended the Vermont Police academy in Pittsford.

Over the years Chad progressed through the ranks at the Sheriff's office. In 2006 he attended the FBI National Academy's three-month program in Quantico Virginia. In 2009 Governor James Douglas appointed Chad to Sheriff of Bennington County to fill the seat after long time Sheriff Gary J. Forrest retired.

In 2018 Chad won re-election to the position and is serving a four-year term. He is currently enrolled at Columbia Southern University pursuing a Master's degree in Public Administration. When not at work he enjoys being home with his wife Jaime and their twins Hayden and Sophia.
---
History
The Bennington County Sheriff's Department has a rich history in Vermont. Originally founded in 1781 by Sheriff Jonas Galusha, the department had no means of funding until 1986 when Gary J. Forrest was appointed Sheriff by Governor Kunin. Gary J. Forrest served as Sheriff from 1986-2009 building the modern day Bennington Sheriff's Department. The Sheriff has worked hard to build a department that has deep reaches in the County. In September of 2009, Chad D. Schmidt was sworn in as Sheriff, replacing the retiring Sheriff Gary Forrest.
---
Our Department's Historical Listing of Sheriffs'
Jonas Galusha - 1781-1787 (Shaftsbury)
David Robinson - 1787-1798 (Bennington)
William Cooley - 1798-1800 (Rupert)
David Robinson - 1800-1811 (Bennington)
Samuel Fay - 1811-1823 (Bennington)
Josiah Burton - 1823-1826 (Manchester)
Samuel Canfield - 1826-1836 (Arlington)
John Norton - 1836-1837 (Bennington)
Gurdin H. Smith - 1837-1839 (Manchester)
Raymond Fish - 1839-1840 (Bennington)
Gurdin H. Smith - 1840-1842 (Manchester)
John V.D.S. McEowen - 1842-1845 (Bennington)
Jasper Viall - 1845-1849 (Dorset)
James S. Merrill - 1849-1853 (Bennington)
Jasper Viall - 1853-1859 (Dorset)
John Robinson - 1882-1884 (Bennington)
James McCall - 1884-1888 (Rupert)
Andrew J. Pike - 1888-1890 (Readsboro)
John Robinson - 1890-1892 (Bennington)
Henry S. Wilson - 1892-1906 (Arlington)
Fredrick Godfrey - 1906-1919 (Bennington)
Perry B. Gardner - 1919-1922 (Bennington)
Patrick H. Thompson - 1922-1924 (Arlington)
Wilton A. Vaill - 1924-1925 (Bennington)
Perry B. Gardner - 1925-1934 (Bennington)
William E. Bissell - 1934-1935 (Bennington)
Clyde Peck - 1935-1947 (Bennington)
John Maloney - 1947-1986 (Bennington)
Gary J. Forrest - 1986-2009 (Bennington)
Chad D. Schmidt - 2009-Present (Bennington)
Towns We Serve
Arlington
Bennington
Dorset
Glastenbury
Landgrove
Manchester
Peru
Pownal
Readsboro
Rupert
Sandgate
Searsburg
Shaftsbury
Stamford
Sunderland
Winhall
Woodford