Your printer friendly content from www.vtsheriffs.com on December 10, 2023.
Vermont Sheriff's Departments: Windham County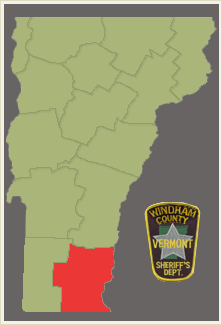 Windham County Sheriff's Department
P.O. Box 266
Newfane, VT 05345-0266


Phone: (802) 365-4949
Fax: (802) 365-4945

Website: www.windhamcountyvt.gov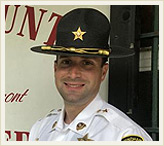 Sheriff:
---
Sheriff Mark Anderson
"I am honored that Governor Scott has entrusted me as sheriff of Windham County," said Anderson. "I'm excited to lead the women and men of the office in its next chapter of service to the people of our community."

A resident of Vernon, Anderson is also a staff sergeant in the Barnes Air National Guard and serves on the board of directors for INSPIRE for Autism, a non-profit school for students with autism located in Brattleboro. He earned a B.A. in business administration in management from the University of Massachusetts Amherst and an A.A. in business administration from Greenfield Community College.
---
History
The Sheriff's Department is a diverse organization of hardworking and dedicated professionals who are involved with many facets of our community life.

Mission Statement

The Windham County Sheriff's Department's mission is to provide high quality court support services and effective, responsive, ethical and affordable policing.

Vision Statement

The Windham County Sheriff's Department will be recognized as the county's premier law enforcement agency providing innovative programs, cutting edge technologies, and high quality services throughout all of Windham County while retaining the Department's reputation for being respectful, compassionate, fair and ethical.

For more information, please view our website: www.windhamsheriff.com
---
Our Department's Historical Listing of Sheriffs'
This listing below is not yet complete. We will update the list when the research has been finished.

Norman Robinson - 1952 - 1969
William Graham - 1969 - 2002
Henry Farnum - 2002 - 2003
Sheila Prue - 2003 - 2006
Richard Guthrie - 2006 - 2007
Keith Clark - 2007-2019
Mark Anderson - 2019-present
Towns We Serve
Athens
Brattleboro
Brookline
Dover
Dummerston
Grafton
Guilford
Halifax
Jamaica
Londonderry
Marlboro
Newfane
Putney
Rockingham
Somerset
Stratton
Townshend
Vernon
Wardsboro
Westminster
Whitingham
Wilmington
Windham